Aussie Chicken Recipes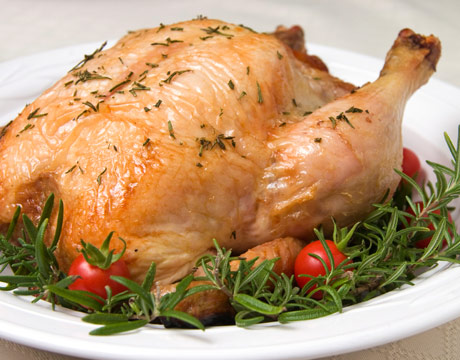 Chicken Recipes are a vital part of any serious cook's recipe collection.
According to the cordina website, chicken consumption has increased sixfold from 1965 to today. Approximately 33 per cent of all Australians eating chicken do so at least three times a week, with chicken now rivalling beef in the Australian diet.
Interestingly, all chicken sold in Australia is grown in Australia. Importing raw chicken meat is banned.
So when you choose YOUR chicken ingredients at the supermarket, you can rest assured that you're buying Australia-made AND you're cooking meals that is nutritious, and low in fat and a significant source of daily requirements of protein, niacin, B6, B12, vitamin D, iron and zinc.
Cuts of Chicken are as follows: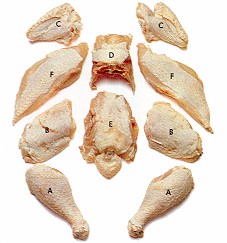 Because we LOVE our Chicken in Australia - I'm going to include many different chicken recipes - some from my family hand-me-down recipes; some from friends and neighbours. I hope you find them interesting, and grow to love them for your dinner parties, barbeques and family feasts.



Do YOU have a favourite Chicken recipe to share?
Click here to see other Viewer's Chicken Recipes, or to share your own....c'mon, don't be shy.



Cornflake Crumbed Chicken (with video)


BBQ Ginger Chicken Wings (with Video)


Crispy Spicy Chicken Wings


Chicken And Yoghurt


Devilled Chicken Kebabs with Tomato Salsa


Roast Chicken & Stuffing (with Video)


Ginger Chicken


Chicken And Cashews


Chicken Stroganoff


Apple Chicken


Lemon Chicken


Coconut Cream Chicken


Curried Savey Chicken


Country Pie


Chicken And Mushroom Cobbler


Chicken With Basil And Broccoli


Chicken With Crisp Chilli And Cashews


Creamy Peanut Chicken


Chicken In Coconut Milk


Almond Chicken


Canton Chicken Wings


Chicken With Black Olives


Chicken Marsala


Glazed Baby Drumsticks


Chicken and Basil Risotto


Chicken Lasagne


Stuffed Chicken Breast (3 versions)


Impossible Chicken Pie


Honey Sesame Drumsticks


Chicken Stir Fry


Honey Chilli Chicken


If you like my website, and have always wanted to create your own content-rich website, please read my page SBI Website . This page will prove to you that whatever you are passionate about, is worth writing about - because the odds are high that many others "out there" want to know what you know.
Afterall - you're visiting my website, right? So you're interested in the information I'm sharing. Read about how I created my website, and be inspired...
Joining the Solo Build It community is like adopting a whole pile of good friends - everyone is so helpful and positive - and with the same goals in mind: to be financially better off, and to have more time to enjoy their lives. Let me know how you go, and if you have any questions, please send them through to:
joanne@aussie-true-blue-recipes.com