Lemon Chicken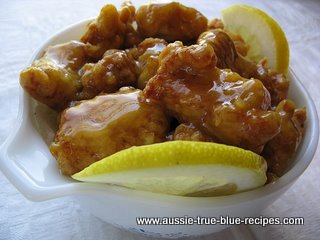 Ingredients:
2 1/2 teaspoons sesame oil
2 1/2 teaspoons sugar
1/2 teaspoon salt
2 tablespoons soy sauce
1 kg chicken breasts
6 tablespoons cornflour
2 tablespoons sherry
2 cloves garlic
2 lemons

Method:
Chop chicken into 2" pieces.
Blend sugar, salt, sesame oil, cornflour, soy sauce and sherry.
Mash garlic and add to cornflour mixture.
Add chicken pieces and mix thoroughly, put in a casserole dish.
Squeeze lemon juice over chicken, chop peel and put on top of chicken.
Cover casserole with waxed paper, and place in middle of oven.
**Place large pan of boiling water in bottom of oven - as this dish is to be mainly steamed, rather than baked.
Cook at 180°C for 35 minutes.
Back to Chicken from Lemon Chicken