About Jo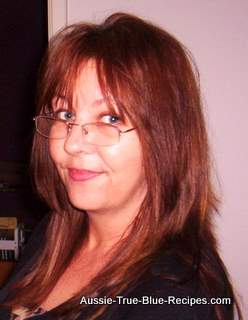 Hello everyone, my name is Jo and welcome to my website, Aussie-True-Blue-Recipes.
What inspired me to create this website? Well, simply put - food!!
I have literally hundreds of recipes that have been given to me on the back of napkins and scraps of paper; handed down from family members, friends, neighbours and country cooks in Outback Australia over the last 30 (or so) years - and I love nothing better than to share them.
In addition, I've sat back and taken note of the thousands of ready-made meals making an introduction into our supermarkets - and it makes me long for the good old days, when everything prepared in the kitchen was made from scratch - whether it be a lumpy gravy, or a burnt lasagne: it was our own effort - it was "true blue".
Having 4 teenagers of my own, I've had many opportunities to use them as guinea pigs for my culinary experiments - and they're brutally honest. They make the judges on "My Kitchen Rules" look meek in comparison.
Speaking of "My Kitchen Rules" - another of my favourite pastimes is watching Australian cooking shows. Shows like My Kitchen Rules, Alive And Cooking and Masterchef, have become popular TV in my home - and I have admired the resilience, creativity and determination demonstrated by the contestants.
Now, I'm no Masterchef - I am just an average cook, but I do love both cooking and eating - and what a winning combination THAT's turned out to be (thinking of my hips here).
Nothing beats home-cooked meals for flavour - let's face it, we can cook at home for a fraction of the cost, we know exactly what ingredients are contained in the dish, and nothing compares to the taste.
I know in this day and age, most women are no longer stay-at-home mums or wives - both parents out working to pay off the mortgage or to support the children - and that's another reason why my website is so good - all of the recipes are easy, tried and tested in my own kitchen over time. I can personally vouch for them. I will not post any recipes on this website that I have personally failed, or been confused by the instructions - because nothing makes you leave the kitchen faster, than an epic fail.
You won't find anything on this website that belongs appropriately in a Fine Dining 5-star restaurant. What you WILL find are easy to prepare and cook hearty meals; very simple desserts and entrees; quick but delicious recipes that will save you some dollars, and put smiles on the lips of anyone entering your kitchen.
I promise to add recipes to the site continually - as I work full time, I usually try to update the site each evening with at least 2-3 recipes from my own collection - so be sure to make the site a "Favourite" and come visit often.
People are constantly saying to me "Jo, how did you create your own website? Where did you go to learn how to do it?"
Well, there's no secret and I'm happy to share both my SBI story, and recommend it to others. I have now added a page that details where I was at before SBI, and where I am since SBI. SBI has enhanced "the Life of Jo" - and I cannot stress enough: it's no get rich quick scheme. In fact it's hard work, but nothing complicated - it's simply a very well designed program that considers how search engines work, provides you with tools and tips that make the actual creation simple, and allows you to build an e-business that works. I myself contribute an hour or two per day, on average. My thoughts are that it's not going to "work" without me - I need to lay some foundations, and that's what I'm doing here.
If you are interested in creating your own website, click on any of the links (like the one below) throughout my website, or just click right here to find how easy it is, and read more about my personal decision to go with SBI. I never thought that I would create a website because I was missing the nerd gene - but here I am, up to about Page 294.
Are you wondering what my favourite page is? Well, as a Master Cake Decorator in days past, I'm very passionate about the Cake Decorating page. But when it comes to food, and eating - I can thoroughly recommend Curried Savey Chicken, Steak Stew, Baked Trout with Yoghut, Jo's favourite - Lemon Meringue Pie and Triple Chocolate Brownies. Obviously, I think about the scrumptuous taste more than I think about my hips. My philosophy is that I can eat whatever my heart desires - I simply have to work harder some days than others to undo the damage.
Thanks again for visiting - please do contribute and share some of YOUR favourite recipes under the "YOUR recipes" page - I'll be sure to add them to the site, with your name attached.
Jo