Triple Chocolate Brownies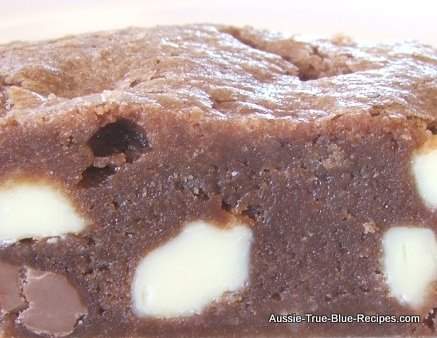 Ingredients:
125g cold butter, chopped
200g dark eating chocolate, chopped finely
3/4 cup caster sugar
2 eggs, beaten lightly
1 cup plain flour
150g white chocolate, chopped
100g milk chocolate, chopped
cocoa powder or icing sugar for dusting
Method:
Preheat the oven to 180°C. Grease a deep 19cm square cake pan, line the base and sides with baking paper.
Combine the butter and dark chocolate in a large saucepan; stir over a very low heat until melted. Remove from heat.
Stir in the sugar, then the eggs. stir in the sifted flour, then the chopped chocolate.
Spread mixture into the prepared pan.
Bake in a moderate oven for about 35 minutes or until the brownie is firm to touch. Cool in the pan.
Cut into squares, dust with sifted cocoa or icing sugar if desired.