True Blue Aussie Desserts And Puddings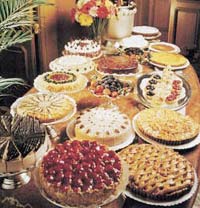 Desserts have always been the favourite of any family feast - enthusiastically awaited - and an intrinsic part of the Aussie dinner - whether it be a casual Barbeque dinner, or a more formal dinner party.
All of the recipes on Aussie-True-Blue-Recipes are tried and tested in my own kitchen over the years, and gathered from family, friends and neighbours. Some of them are golden oldies that have been passed down through generations - and which still show the old measuring scale for Australia (imperial). If you need a conversion, please feel free to make good use of the Conversions Page I will be pleased to share my family secrets with you over the coming weeks and months - some of these recipes have never been to print - but have been developed by some of the greatest Australian country cooks that I have had the pleasure to know personally.



Do you have a favourite Dessert recipe that you'd like to share?
Click here to see other viewer's favourite Dessert recipes, or to share your own....

Paris Brest


Apricot Pie


Home Made Ice Cream


Sticky Orange And Passionfruit Pudding


Summer Fruit Flan


Black Forest Flan


Apple Crumble


Passionfruit Flummery


Deep Dish Apple Pie


Walnut Pie


Bread And Butter Pudding


Charlotte Russe


Butterscotch Pudding


Ice Bowl


Panna Cotta With Raspberry Sauce


Christmas Trifle (with video)


Banana Fritters


The following are a series of dessert tarts - recipes that have come through my family over the years. They all rely on a pastry base - recipes are under the "Pastry" section of this website.
These will become family favourites, and you can thank me later....


Orange Tart


Condensed Milk Tart (with Video)


Rocky Road Tart


Fruit Tart


Lime Cream Pie


Golden Staircase Pie


Butterscotch Tart


Coconut Marshmallow Tart


Custard Tart


Anzac Apple Tart


Apple Nougat Tart


Heavenly Tart


Lemon Meringue Pie (with Video)


Pineapple Tart


Pineapple Tart No. 2


Raspberry Shortcake


Tart Au Citron


Passion And Apple Delight Tart


Apricot Tart


No dessert collection is complete without a selection of cheesecakes to try. I have several baked cheesecake recipes, along with some no-bake styles to try. All of these cheesecake recipes have been given to me in handwritten form from some of the best outback cooks in the country.


Baked Lime and Passionfruit Cheesecake


Tropical Cheesecake


Raspberry Swirl Cheesecake


Black Forest Cheesecake


If you like my website, and have always wanted to create your own content-rich website, please read my page SBI Website . This page will prove to you that whatever you are passionate about, is worth writing about - because the odds are high that many others "out there" want to know what you know.
Afterall - you're visiting my website, right? So you're interested in the information I'm sharing. Read about how I created my website, and be inspired...
Joining the Solo Build It community is like adopting a whole pile of good friends - everyone is so helpful and positive - and with the same goals in mind: to be financially better off, and to have more time to enjoy their lives. Let me know how you go, and if you have any questions, please send them through to:
joanne@aussie-true-blue-recipes.com