Deep Dish Apple Pie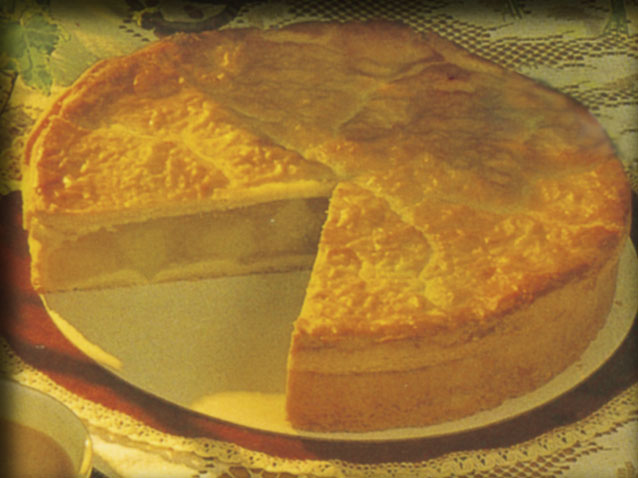 Ingredients:
8 large apples, peeled, cored and thickly sliced
2 thick strips lemon rind
6 whole cloves
1 cinnamon stick
1/2 cup sugar
1 egg

Method:
Grease a deep, 20cm round springform tin. Line the base with baking paper, grease the paper, dust lightly with flour and shake off the excess.
Roll two-thirds of the pastry between two sheets of baking paper to cover the base and side of the tin. Ease into the tin.
Roll out the remaining pastry large enough to fit the top of the tin - and chill for 20 minutes.
Put the apples, rind, cloves, cinnamon, sugar and 2 cups of water in a large pan. Cover and simmer for 10 minutes, or until tender. REmove from the heat, drain and cool.
Discard the rind, cloves and cinnamon.
Preheat the oven to moderate 180 degrees celcius. Spoon the filling into the piece shell. Cover with the pie top, lightly beat the egg and brush over the pastry edges to seal.
Prick the top with a fork. Trim the edges and crimp to seal.
Brush with beaten egg and bake for 50 minutes.
Leave in the tin for 10 minutes before removing.



Back to Desserts from Deep Dish Apple Pie