True Blue Aussie Sauces And Gravies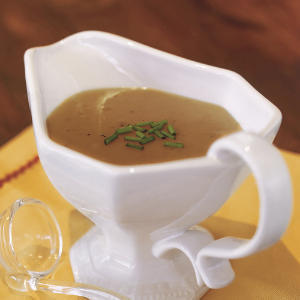 In cooking, a sauce or gravy is liquid or sometimes semi-solid food served on, or used in preparing, other foods. Sauces are not normally consumed by themselves; they add flavor, moisture, and visual appeal to a dish.
These days at restaurants, or even your own dinner parties - it has become almost the "must have" part of any meal. Many of you will remember Manu from My Kitchen Rules saying "but where's the sauce" in that gorgeous french accent.
I will endeavour to include as many sauce, gravy and marinade recipes as I can find to add to my collection for you at Aussie True Blue Recipes. Some will be from family, some of my own, some from neighbours, friends and friends of friends.
Once you've tried some of these out on your guests - you will never put a bottled sauce on your table again.
Be sure to check back (make the site a favourite) as I will be continually adding to the recipes over the following weeks, months and probably years.


Bechamel Sauce


Mayonnaise


Plum Sauce


Oriental Marinade


Basic Marinade


Sweet And Sour Sauce


Seafood Cocktail Sauce


Mango Sauce


Caramel Brandy Sauce


Medium Bechamel Sauce with 3 variations


Parsley Sauce


Cheese Sauce


Basic BBQ Sauce


Black Bean Sauce


Garlic Sauce


Aussie Salad Cream


French Dressing


If you like my website, and have always wanted to create your own content-rich website, please read my page SBI Website . This page will prove to you that whatever you are passionate about, is worth writing about - because the odds are high that many others "out there" want to know what you know.
Afterall - you're visiting my website, right? So you're interested in the information I'm sharing. Read about how I created my website, and be inspired...
Joining the Solo Build It community is like adopting a whole pile of good friends - everyone is so helpful and positive - and with the same goals in mind: to be financially better off, and to have more time to enjoy their lives. Let me know how you go, and if you have any questions, please send them through to:
joanne@aussie-true-blue-recipes.com