Mango Sauce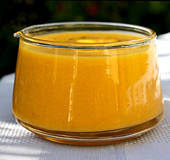 Ingredients:
4 ripe mangoes
1 1/2 cups white vinegar
1 cup sugar
2 Teaspoons salt
1 Teaspoon curry powder
1/2 Teaspoon ground giner
1/2 Teaspoon ground cloves
1/2 Teaspoon pepper
1/2 Teaspoon mixed spice
1/2 Teaspoon nutmet
1/2 Teaspoon worcestershire sauce
6 cloves garlic
2 red chillies

Method:
Peel mangoes, slice fruit away from the stone.
Combine mango slices in large saucepan or boiler with vinegar, sugar, salt, spices, worcestershire sauce, crushed garlic and chopped chillies.
Simmer covered for 30 minutes or until mangoes are soft.
Push through a sieve with a wooden spoon, and pour into a hot sterilized bottle and seal.
Serve with pork, chicken or game.
Makes about 3 cups.
Back to Sauces and Gravies from Mango Sauce