Barbeque Ideas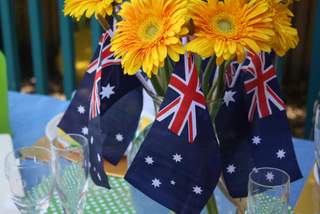 If you're looking for wonderful Barbecue Ideas, you're on the right website.
Australian culture relies heavily on outdoor entertaining, and barbecues. The relaxed, laid-back lifestyle is one which we all enjoy on week-ends, public holidays and whenever we can get time off work - and festive holidays are those where the barbecue is our backyard "false" idol.
There are plenty of different types of barbecue - whether you still have the iron plate over a wood fire, a gas cylinder (or two), or have gone the extra mile to have your barbecue attached to the main supply of your house. There are portable barbecues that fold up neatly and fit in the back of your car when your family has decided a beach trip or picnic is in order; there are the strong sturdy 6-burner variety that become an outside fixture. There is the Weber - fantastic for roasting and barbecuing at any time of the year.
I even know people who pile wood into their Weber, and use it as an outdoor heater.
If you haven't visited Australia, or if you don't live here - I guess it will be hard to imagine - we're like no other country on earth: we're very casual, very laid back, very into our food, good friends, family and company.
A good barbeque is the best atmosphere to catch up with friends, conduct informal meetings, break the ice with newcomers to the family, welcome neighbours. We're a social bunch, and it's inevitable that when you're invited to an Australian home, you can expect a barbecue 90% of the time.
What Australian household isn't complete without the "backyard BBQ"? Many wonderful recipes have been developed and adapted for cooking outside on the barbeque, grill or even wood fire.
Nothing beats the taste of flame-grill - and probably due to the wonderful Australian climate, Aussies have certainly perfected barbeque techniques.
I hope you enjoy sifting through the wonderful suggestions below.



Do you have a favourite BBQ (Grill) recipe to share?
Click here to see other viewers' favourite BBQ (Grill) recipes, or to share your own...




Continental Salad Sticks


Prawn And Scallop Skewers


Rosemary Chicken Skewers


Barbecued Lamb Chops


Barbecued Garlic Chicken


BBQ Pork Spare Ribs





If you like my website, and have always wanted to create your own content-rich website, please read my page SBI Website . This page will prove to you that whatever you are passionate about, is worth writing about - because the odds are high that many others "out there" want to know what you know.
Afterall - you're visiting my website, right? So you're interested in the information I'm sharing. Read about how I created my website, and be inspired...
Joining the Solo Build It community is like adopting a whole pile of good friends - everyone is so helpful and positive - and with the same goals in mind: to be financially better off, and to have more time to enjoy their lives. Let me know how you go, and if you have any questions, please send them through to:
joanne@aussie-true-blue-recipes.com