BBQ Pork Spare Ribs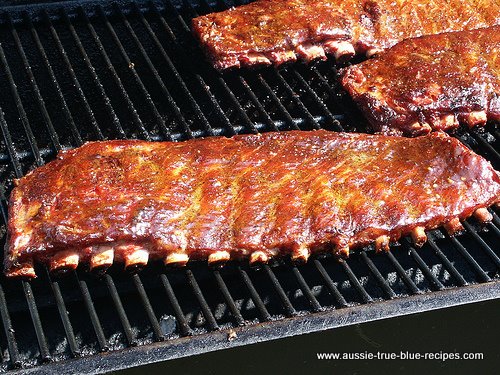 Ingredients:
1kg pork spare ribs
4 tablespoons BBQ sauce 4 tablespoons honey
4 tablespoons brown vinegar
1 tablespoon chinese chilli sauce
1/4 teaspoon five spice powder
1/2 cup dry sherry
2 tablespoons soy sauce
1 clove garlic
2.5cm piece of green ginger

Method:
Place ribs in large saucepan of water. Bring to boil.
Reduce heat, simmer covered for 20 minutes
(This helps to remove excess fat)
Combine BBQ sauce, honey, vinegar, chilli sauce, five spice powder, dry sherry, soy sauce, garlic and ginger. Mix well.
Put Pork ribs into baking dish, pour sauce over. Leave to stand for one hour, turning occasionally.
This dish can be cooked one of two ways:
1. Bake in a moderately hot oven for one hour, basting frequently with the marinade.
2. Grill on a hot BBQ plate until cooked, basting throughout cooking time.
Back to Pork from BBQ Pork Spare Ribs