Biscuits And Slices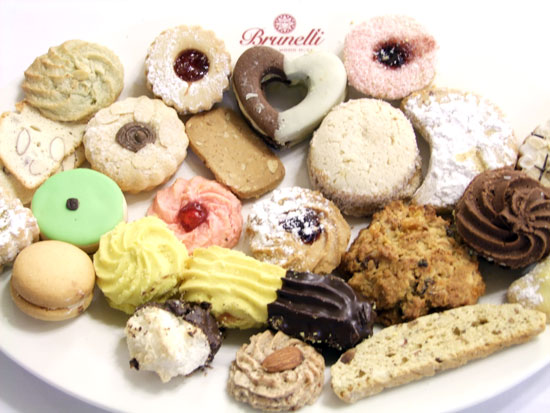 I can't remember a time in my life where I haven't had biscuits or slices in my pantry. More than the Great Australian BBQ, I think biscuits and slices are another fantastic Aussie tradition. If someone pops in unexpectedly for coffee and a chat, there's not many Aussie households that don't have a ready supply of these treats available to accompany a "cuppa".
Of course - they're not all home-made (hmmm).
The following recipes are again "tried and tested", true-blue aussie recipes. For me, if they are polished off within 24 hours of baking, I can assume that they have won the hearts of my children, and friends. (Not to mention the one or two that I sneak when no-one's looking).



Do you have a favourite Biscuit or Cookie Recipe to share?
Click here to see other viewer's favourite Biscuit and Cookie Recipes - or to share your own...




Biscuits:
Anzac Biscuits


Chocolate Biscuits


Almond Crisps


Butterscotch Coffee Shortbread


Melt-In-Your-Mouth Vanilla Biscuits


Chewy Choc-Chunk Cookies


Peanut Butter Biscuits


Lemon Shortbread


Triple Choc Cookies


Passionfruit Butter Biscuits


Coffee Snaps


Stained Glass Christmas Cookies


Brandy Snaps


Slices
Apricot Slice


Cherry Ripe Slice


Chocolate Fudge Brownies


Chocolate Fruit Slice


Lattice Cheesecake Slice (with video)


Coconut Raspberry Slice (with video)


Rocky Road Brownie Slice


Mars Bar Slice


Triple Chocolate Brownies


White Chocolate And Macadamia Slice


If you like my website, and have always wanted to create your own content-rich website, please read my page SBI Website . This page will prove to you that whatever you are passionate about, is worth writing about - because the odds are high that many others "out there" want to know what you know.
Afterall - you're visiting my website, right? So you're interested in the information I'm sharing. Read about how I created my website, and be inspired...
Joining the Solo Build It community is like adopting a whole pile of good friends - everyone is so helpful and positive - and with the same goals in mind: to be financially better off, and to have more time to enjoy their lives. Let me know how you go, and if you have any questions, please send them through to:
joanne@aussie-true-blue-recipes.com