Lattice Cheesecake Slice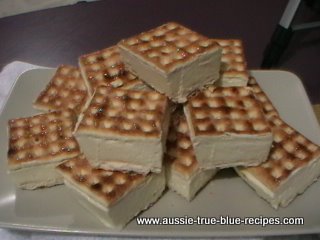 Ingredients:
2 pkts Arnotts Lattice biscuits
1 tin sweetened condensed milk (reduced fat is okay)
1 tub cream cheese
1/2 cup lemon juice

Method:
Place a layer of Lattice Biscuits (glazed side down) on the base of a slice tray.
Mix together the condensed milk, cream cheese and lemon juice - mix until well blended.
Pour onto the base layer of Lattice biscuits, and level out completely.
Place another layer of Lattice Biscuits (glazed side up) on the top of the cream cheese mixture.
Place into the refrigerator for about 2 hours or until set, and then cut into slices.
For video demonstration, please see below.
This slice is particularly nice if frozen - it becomes a sweet "yoghurty-creamy" concoction...

Lattice Cheesecake Slice - Video Demonstration

Back to Biscuits And Slices from Lattice Cheesecake Slice