Peanut Butter Biscuits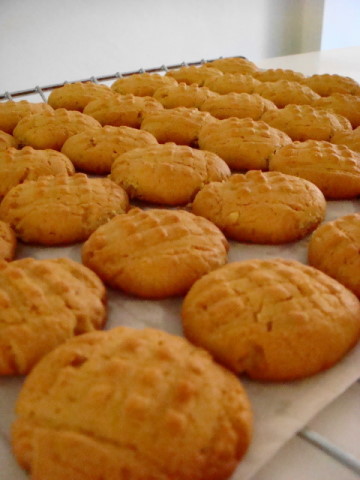 Ingredients:
125g butter, chopped at room temperature
1 cup brown sugar
1/2 cup crunchy peanut butter
1 egg, beaten
1 cup rice flour
1 teaspoon baking powder

Method:
Preheat oven to moderate, 180°C. Line two oven trays with baking paper.
In a bowl, using an electric mixer, beat butter and brown sugar together until creamy.
Beat in peanut butter and egg until well combined.
Sift rice flour and baking powder together. Mix into creamed mixture until well combined.
Spoon tablespoonfuls of mixture into balls and arrange on trays. Allow room for spreading.
Bake for 8-10 minutes.
These biscuits can be topped with a a mixture of chopped chocolate and peanuts, or just melted chocolate.