Almond Crisps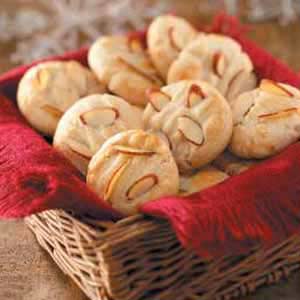 Ingredients:
These Almond Crisps were one of our favourites when I was a child.
In my childhood, our kitchen was a constant hive of activity - even if nothing was cooking, it was the place to do homework, read a book - and the place to sit with friends who needed a friendly ear, or who were just calling by to catch up. I loved that homely feel to our kitchen, and when I was a new wife, and a young mother - I would try daily to re-create that comfortable, all-forgiving feeling of days gone by.
As a child, whenever we sat around the kitchen table, my mother would reach to the top of the cabinet and grab the Biscuit Barrel, which she constantly stocked with biscuits and cookies of many and different varieties.
125g butter, softened and chopped
1/4 cup caster sugar
1 cup self-raising flour
1/4 cup almond meal
2 tablespoons flaked almonds
Method:
Preheat oven to 200°C. Grease oven trays.
Beat butter and sugar in small bowl with electric mixer until smooth. Stir in flour and almond meal.
Roll level tablespoons of mixture into balls; place on trays 5cm apart. Flatten slightly with a floured fork to 1cm thick; Sprinkle with flaked almonds.
Bake about 10 minutes. Stand crisps on trays for 5 minutes before transferring to wire racks to cool.
Store in airtight container, or if you have a large family like I do - a Biscuit Barrel - they won't last long enough to go stale.
These biscuits are such a delight - perfect for taking to work and school; for packaging as part of stalls at a fete; for those times when you need to "bring a plate" at a Tupperware Party, or for those times when your children have sleepovers.
Similarly, if you don't like to share - they're ideal tucked away in your "hiding spot" for those times when you just want to spoil yourself!!
Back to Biscuits And Slices from Almond Crisps