Cherry Ripe Slice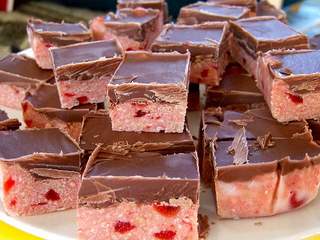 Ingredients:
(This Cherry Ripe slice will keep in an airtight container for up to a week, or alternatively it can be frozen, and thawed when required for up to 3 months).
500g malt biscuits
1 tin condensed milk
500g coconut
125g cherries
Cochineal
125g copha



Method:
Line base of Lamington tray with malt biscuits
Melt copha
Mix together all ingredients (condensed milk, coconut, cherries, cochineal and melted copha
Spread evenly over biscuits, and press down with the back of a spoon to compress mixture.
Place rest of malt biscuits on top of mixture.
Ice with chocolate icing and leave in fridge to set.
Cut into even squares. Makes roughly 30-36 squares.