Coffee Snaps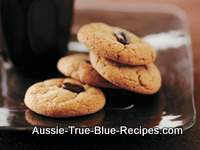 Ingredients:
125g butter, softened, chopped
1 1/4 cups firmly packed brown sugar
3 teaspoons ground coffee
1/2 teaspoon vanilla extract
1 egg
3/4 cup plain flour
3/4 cup self-raising flour
2 tablespoons coffee beans
Method:
Preheat oven to 180°C. Grease oven trays.
Beat butter, sugar, coffee and extract in small bowl with electric mixer until pale and fluffy. Add egg; beat until just combined.
Stire in sifted flours.
Roll rounded teaspoons of mixture into balls; place on trays 3cm apart.
Top each biscuit with a coffee bean.
Bake about 10 minutes or until browned. Stand 5 minutes before transferring to wire rack to cool. Store in airtight container.