Chewy Choc-Chunk Cookies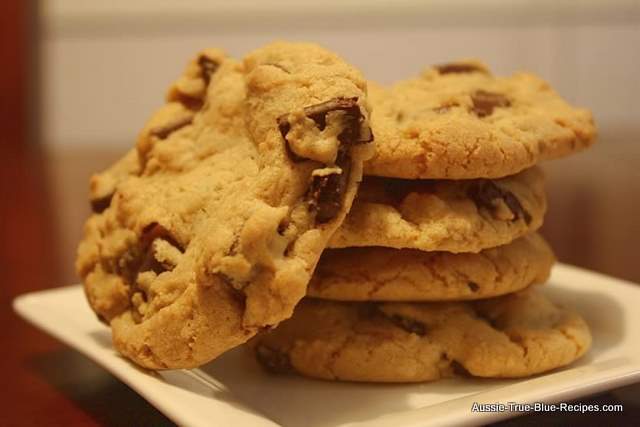 Ingredients:
2 eggs
1 1/3 cups firmly packed brown sugar
1 teaspoon vanilla extract
1 cup plain flour
3/4 cup self-raising flour
1/2 teaspoon bicarbonate of soda
1/2 cup vegetable oil
1 cup coarsely chopped roasted pecans
3/4 cup coarsely chopped raisins
1 cup dark chocolate melts, halved
1/2 cup white choc bits

Method:
Beat eggs, sugar and extract in small bowl with electric mixer for about 1 minute or until mixture becomes lighter in colour.
Stir in sifted ry ingredients then remaining ingredients (the mixture will be soft). Cover bowl, refrigerate 1 hour.
Preheat oven to 200°C. Grease oven trays.
Roll heaped tablespoons of mixture into balls; place on trays about 6cm apart, flatten into 6cm rounds.
Bake about 10 minutes or until browned lightly. Stand cookies on trays for 5 minutes before transferring to wire racks to cool. Store in airtight container.