Rocky Road Brownie slice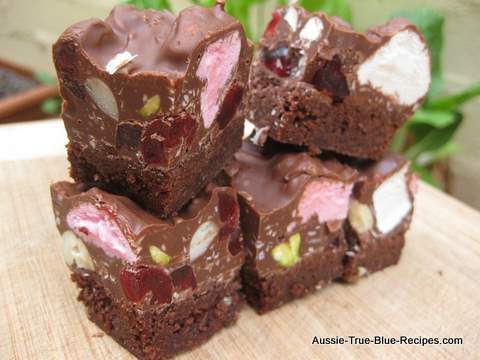 Ingredients:
Base:
125g dark chocolate, chopped
125g butter, chopped
2/3 cup caster sugar
1 egg, lightly beaten
3/4 cup plain flour
1/4 cup self-raising flour, sifted
Rocky Road:
125g mixed marshmallows, chopped
1/2 cup red glace cherries, halved
1/2 cup mixed unsalted nuts, roughly chopped
1/2 cup desiccated coconut
500g milk chocolate, chopped, melted

Method:
Preheat oven to moderate 180°C. Lightly grease and line an 18 x 28cm slice pan, extending baking paper 2cm above edge of pan.
Combine chocolate and butter in small saucepan. Stir over a low heat until smooth. Cool for 10 minutes.
Stir caster sugar and egg through. Fold in flour.
Spread mixture into prepared pan. Bake for 15-20 minutes until firm. Cool to room temperature.
For Rocky Road:
In a clean bowl, combine marshmallows, cherries, nuts and coconut. Stir in chocolate.
Spoon chocolate mixture evenly over base. Chill for 1 hour until firm.
Cut into squares with a hot knife. Store in an airtight container in the fridge.