White Chocolate And Macadamia Slice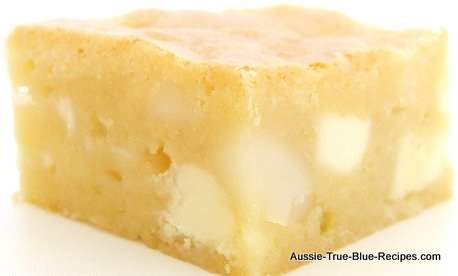 Ingredients:
125g butter, chopped coarsely
180g white eating chocolate, chopped coarsely
1/2 cup caster sugar
2 eggs
1 cup plain flour
1/2 cup self-raising flour
3/4 cup coarsely chopped roasted macadamias
3/4 cup white choc Bits
1 tablespoon icing sugar

Method:
Preheat oven to 160°C, Grease 19cm x 30cm lamington pan; line base and long sides with baking paper, extending paper 5cm over sides.
Combine butter and chocolate in medium saucepan; stir over low heat until smooth. Cool 10 minutes.
Stir sugar and eggs, then sifted flours, macadamia and Choc Bits into chocolate mixture.
Spread mixture into pan. Bake slice in oven, about 30 minutes. Cool slice in pan. Dust with sifted icing sugar before serving.