Stained Glass Christmas Cookies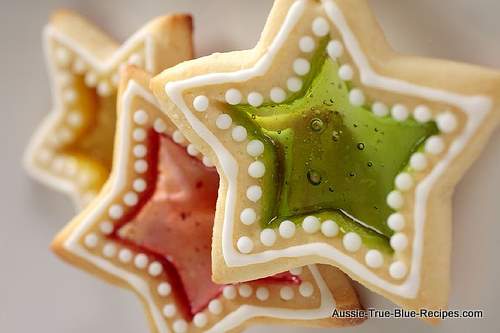 Ingredients:
250g butter, softened and chopped
2 teaspoons finely grated lemon rind
1/2 gteaspoon almond essence
3/4 cup caster sugar
1 egg
1 tablespoon water
2 1/4 cups plain flour
90g individually wrapped sugar-free fruit drops, assorted colours
Method:
Beat butter, rind, essence, sugar, egg and the water in small bowl with electric mixer until smooth (do not overbeat).
Transfer mixture to large bowl; stir in flour.
Knead dough on floured surface until smooth. Cover with plastic wrap and refrigerate for 30 minutes.
Meanwhile, using rolling pin, gently tap wrapped lillies to crush slightly. Unwrap lollies, separate by colour into small bowls.
Preheat oven to 180°C. Grease oven trays.
Roll dough between sheets of baking paper until 4mm thick. Cut shapes from dough using medium sized cookie cutters. Use very small cookie cutters to cut out the centre of each cookie.
Place cookies on trays; bake about 5 minutes. Remove trays from oven; fill cut-out centre of each cookie with crushed lillies. Return to oven for 5 minutes. Cool cookies on trays, and transfer to airtight container.