Passionfruit Butter Biscuits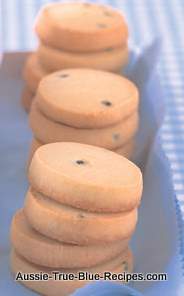 Ingredients:
250g butter, softened
1 1/3 cups icing sugar
2 cups plain flour
1/2 cup cornflour
1/3 cup rice flour
2 tablespoons passionfruit pulp
Method:
Combine butter, sugar and flours in large bowl of food processor; process 2 minutes or until mixture is combined.
Add passionfruit; process until mixture clings together.
Transfer mixture to floured surface. Knead gently until smooth.
Divide dough in half, roll each half into 26cm log and wrap in plastic. Refrigerate for 1 hour.
Preheat oven to 160°C. Grease oven trays.
Cut logs into 1cm slices; place slices on trays 3cm apart. Bake about 20 minutes. Stand biscuits on trays for 5 minutes before transferring to a wire rack to cool.
Store in airtight container.