Rosemary Chicken Skewers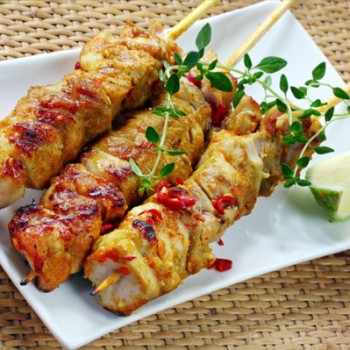 Ingredients:
These Rosemary Chicken Skewers are ideal for those guests who don't like to eat red meat - simple, yet delicious.
4 chicken breasts, bone removed
2 large onions, cut into eights.
Rosemary Marinade:
1/2 cup olive oil
1 Tablespoon fresh rosemary
1/2 cup freshly squeezed lemon juice
1 Tablespoon chopped garlic
Freshly ground black pepper
Method:
Combine all marinade ingredients in a screwtop jar. Shake until well combined.
Cut chicken into 2.5cm cubes.
Place in a bowl with the onion.
Pour marinade over the chicken and onion, toss to coat well, refrigerate overnight.
Stir from tiem to time.
Thread alternate pieces of chicken and onion onto skewers.
Barbeque until browned, turning occasionally, basting with marinade (about 10 minutes).
Serves 8.



Back to Barbeque Ideas from Rosemary Chicken Skewers