Barbecued Garlic Chicken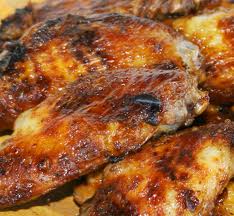 Ingredients:
1kg chicken pieces
Marinade:
6 cloves garlic, crushed
1/4 cup lemon juice
2 tablespoons Thai Sweet Chilli Sauce
1 coriander plant, chopped
1 tablespoon brown sugar
2 teaspoon soy sauce

Method:
Wash chicken pieces and pat dry. Place in a large dish.
To prepare Marinade, mix allm arinade ingredients together in a bowl. Pour the mixture over the chicken pieces and mix until all pieces are well coated with marinade.
Cover and refrigerate for 2 to 3 hours.
Barbecue chicken pieces over glowing coals, or BBQ, until golden brown all over and cooked through.
Back to Barbeque Ideas from Barbecued Garlic Chicken