Garlic Sauce
contributed by Kiara Parker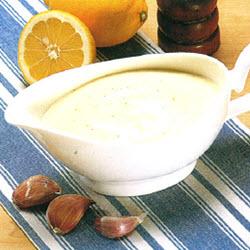 Ingredients:
20g butter 3 cloves crushed garlic 1/4 cup white wine 1 cup of cream 1 Tablespoons corn flour 1/4 tsp ground pepper

Method:
Put butter and garlic into pan.
Stir in wine and cook for a minute.
Add cream and pepper, stir for a minute.
Dissolve corn flour in water and slowly stir- in.
Cook for 3-4 minutes or until desired thickness is reached.
Back to Sauces And Gravies from Garlic Sauce