Cheese Sauce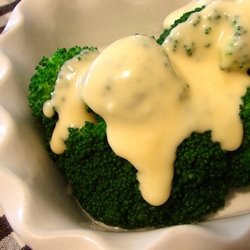 Ingredients:
This Cheese Sauce is the ideal accompaniment to be served with cauliflower, spinach, eggs, leeks, onions or poached fish. Cheese sauce (without the egg yolk) can be used to make a gratin, the sauce is poured over the cooked food, sprinkled with breadcrumbs and/or cheese and browned under the grill just before serving.
4 Tablespoons grated mature cheese, parmesan or gruyere
1 egg yolk
1 Teaspoon Dijon mustard
250ml thin Bechamel Sauce
Method:
Make Bechamel sauce (recipe on this site). Off the heat, beat in 1 egg yolk (optional) and 4 Tablespoons grated mature cheese.
For extra flavouring, add 1 Teaspoon Dijon mustard.
Do not boil the sauce or the cheese will become stringy.
Leave out the egg yolk for gratins - the sauce will curdle.

Cheese Sauce - Video Demonstration
This demonstration will take you right through the process of making Bechamel Sauce (the white sauce) and then through to Cheese Sauce. The Video Demonstration does not have the same ingredients as the above recipe - but it is a very quick and easy alternative.
Back to Sauces And Gravies from Cheese Sauce