Plum Sauce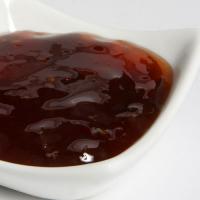 Ingredients:
3kg blood plums
7 1/2 cups vinegar
1/2 Teaspoon Cayenne
1 Teaspoon whole cloves
1.5kg sugar
2 Teaspoons salt
1 Teaspoon allspice berries
2oz green ginger

Method:
Remove stones from the fruit before weighing.
Place in a preserving pan with the remaining ingredients (tie the whole spices, scraped and bruised ginger in a piece of muslin).
Simmer for one hour until the plums are soft.
Rub through a strainer and return to pan.
Cook until the sauce is a good consistency.
Remove the bag of spices.
Bottle and seal
Back to Sauces And Gravies from Plum Sauce