Raspberry Swirl Cheesecake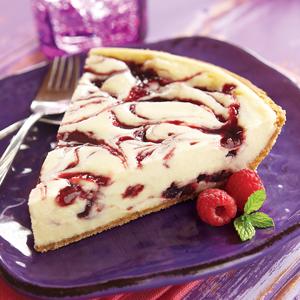 Ingredients:
This Raspberry Swirl Cheesecake is simply divine - in appearance and in taste, and will be much requested at your family dinners and functions.
Base:
250g plain sweet biscuits
90g unsalted butter, melted
Filling:
2 Tablespoons gelatine
500g light cream cheese, softened
1/3 cup lemon juice
1/2 cup caster sugar
1 1/4 cups cream, whipped
250g frozen raspberries
2 Tablespoons caster sugar, extra

Method:
Lightly grease a 23cm diameter springform tin and line the base with baking paper. Finely crush the biscuits in a food processor, then mix in the butter.
Spoon into the tin, press firmly over the base and up the side and refrigerate for 20 minutes, or until firm.
Put 1/4 cup water in a small heatproof bowl, sprinkle evenly with the gelatine and leave to go spongy. Bring a large pan filled with about 4cm water to the boil, remove from the heat, carefully lower the gelatine bowl into the water (it should come halfway up the side of the bowl), then stir until dissolved. Allow to cool.
Using electric beaters, beat the cream cheese until creamy, add teh juice and sugar and beat until smooth. Gently fold in the whipped cream and half the gelatine.
Process the raspberries and extra sugar in a food processor until smooth. Push the puree through a fine-meshed nylon sieve to remove any pips. Fold the remaining gelatine into the raspberry mixture. Place blobs of cheesecake mixture into the tin and fil the gaps with the raspberry. Swirl the two mixtures together, using a skewer or the point of a knife.
Refrigerate for 4 hours or until set. Can be decorated with whipped cream and raspberries.



Back to Desserts from Raspberry Swirl Cheesecake