Apple Crumble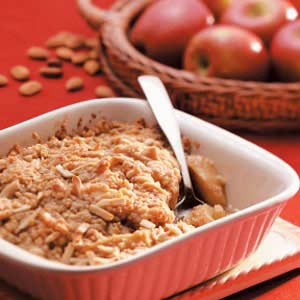 The Apple Crumble originates from the second World War, where strict rations meant that there wasn't enough flour to make the traditional pies - the result being that both sweet and savoury versions of the crumble were created.
A similar dish came out of the United States of America, believed to be around 1924, known as an Apple Crisp. A more cake-like version the "Apple Cobbler" was also created.
During the second World War, a lot of fruit began to rot while still on the vine or tree - afterall, most of the farmers had joined the war effort. Similarly, even if the farmer's wives and families were able to collect the fruit from the trees, it often sat on docks waiting to be despatched - again, due to a lack of manpower to oversee the work.
My mother still remembers her father coming home with a big bag of half rotten apples, and diligently sitting on the back steps of their Queenslander home, cutting the spots out of the fruit.
Most of this fruit was then chopped up and used for either preserving or in recipes such as this one.
Although the recipe was originally created to incorporate apples, there were many other fruits that were used in this way including Rhubarb, Pears, Peaches, Plums and Cherries.
Try this traditional Apple Crumble recipe - let me know what you think.
Ingredients:
8 cooking apples
2 Tablespoons caster sugar
1 cup plain flour
1/2 cup soft brown sugar
3/4 teaspoon ground cinnamon
100g butter, chopped

Method:
Preheat the oven to moderate 180 degrees celcius. Peel and core the apples and cut each one into 8 wedges. Place in a saucepan with 1/4 cup water, bring to the boil, then reduce the heat to low and cover.
Cook for about 15 minutes, or until the apples are just soft. Remove from the heat, drain and then stir in the sugar. Spoon the apple into a 1.5 litre ovenproof dish.
Place the flour in a bowl and stir in the brown sugar and cinnamon. Add the butter and rub with just your fingertips until the mixture resembles coarse breadcrumbs. Sprinkle evenly over the top of the apple mixture to cover completely. Bake for 25-30 minutes, or until crisp and golden brown.
Serve immediately with cream or ice cream.



Back to Desserts from Apple Crumble