Banana Fritters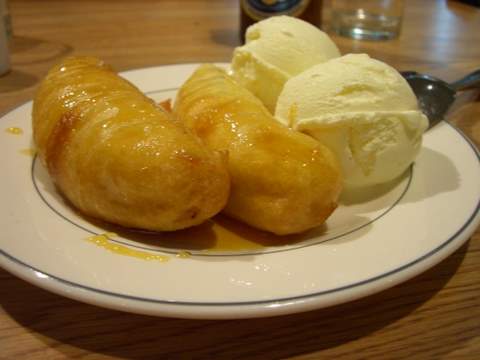 Ingredients:
1 cup sifted flour
2/3 cup beer
pinch salt
4 Teaspoons rum
1 egg white, beaten stiff
4 large bananas
1 cup light oil for frying
Icing sugar
Method:
Make a batter by combining flour, beer, salt and sugar.
This should have the consistency of cream, add a little more beer if necessary.
Add the oil and rum and leave stand for several hours.
Just before using fold in the beaten egg white.
Peel the bananas and cut them across in half.
Heat the oil in a wok or deep pan.
Test with a drop of batter - it shoudl rise quickly to the surface, a delicate, golden straw colour.
Dip bananas in batter, and place quickly in the hot oil.
When golden brown, drawin.
Serve quickly, topped with sifted icing sugar and a scoop of vanilla ice-cream (try my Home Made Ice-Cream recipe)



Back to Desserts from Banana Fritters