Paris Brest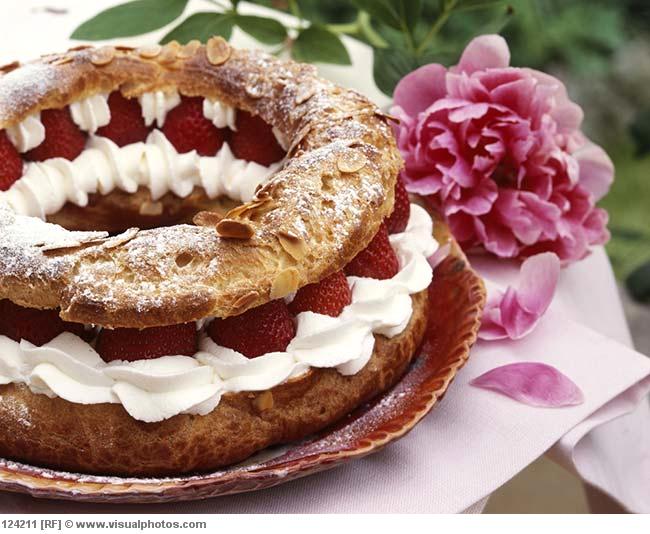 Ingredients:
The recipe for Paris Brest involves mastering the Choux pastry technique.
Now, before you run screaming for something to soothe the anxiety attack, I want you to take a big deep breath - and remove everything from your mind that you ever heard about Choux Pastry.
It's really quite easy. Go on, give it a go - and feel very proud of yourself after you accomplish this recipe first time.
Choux Pastry

Filling:
3 egg yolks
1/4 cup caster sugar
2 Tablespoons plain flour
1 cup milk
1 Teaspoon vanilla essence
1 cup cream, whipped
200g raspberries or 250g strawberries (or a mixture)
Topping:
125g dark chocolate, chopped
30g unsalted butter
1 Tablespoon cream
Method:
I am assuming you have already followed the Choux Pastry recipe contained in the "Pastry" section of this website. If not, do it now - and get to the stage where the mixture is ready in the bowl, but not on the baking pans.
Preheat the oven to hot 210 degrees celcius. Brush a large tray with melted butter or oil and line the tray with baking paper and mark a 23cm circle on the paper.
For the perfect Paris Brest, place heaped heaped tablespoons of mixture touching eachother, using the marked circle as a guide. Bake for 25-30 minutes, or until browned and hollow sounding when the base is tapped.
Turn off the oven and leave the pastry to dry in the oven for 5 minutes.
To make the filling:
Whisk the yolks, sugar and flour in a bowl until pale. Heat the milk in a pan until almost boiling. Gradually add to the egg mixture, stirring constantly. Return to the pan and stir constantly over medium heat until the mixture boils and thickens. Cook for another 2 minutes, stirring constantly.
Remove from the heat and stir in the vanilla essence. Transfer to a bowl, cover the surface with plastic wrap to prevent a skin forming and set aside to cool.
To make the topping:
Combine the chocolate, butter and cream in a heatproof bowl. Stand the bowl over a pan of simmering water and stir until the chocolate has melted an the mixture is smooth. Cool slightly.
To assemble:
Cut the pastry ring in half horizontally using a serrated knife. Remove any excess dough that remains in the centre. Fold the whipped cream through the custard and spoon into the base of the pastry. Top with raspberries or halved strawberries.
Replace the remaining pastry half on top. Using a flat bladed knife, spread the chocolate mixture over the top of the pastry and leave to set.
Note: The pastry ring may be made up to 4 hours in advance. Store in an airtight container. Custard may be made up to 4 hours in advance; refrigerate until required. Assemble close to serving time.



Back to Desserts from Paris Brest