Tart Au Citron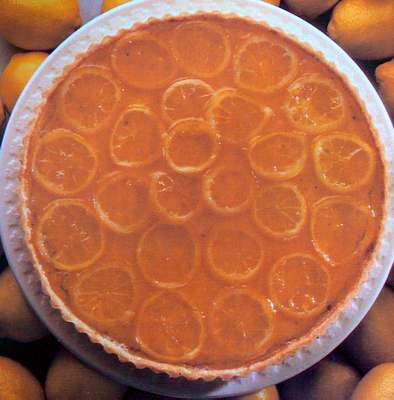 Ingredients:
This Tart Au Citron is a strong lemon custard tart, quite exquisite in flavour and served best with full cream or custard.
3 eggs
2 egg yolks
3/4 cup caster sugar
1/2 cup cream
3/4 cup lemon juice
1 1/2 Tablespoons finely grated lemon rind
2 small lemons
2/3 cup sugar
Shortcrust Pastry base
If you like my site, and want to know how I did it, click this link....
Method:
Whisk the eggs, yolks and sugar together, add the cream and juice and mix well.
Strain into a jug and then add the rind.
Place the flan tin on a baking sheet on the middle shelf of the oven and carefully pour in the filling right up to the top.
Bake for 40 minutes or until it is just set - it should wobble in the middle when the tin is firmly tapped.
Cool the tart before removing from it's tin.
Wash and scrub the lemons well. Slice very thinly (about 2 mm thick). Combine the sugar and 200ml water in a small frying pan and stir over low heat until the sugar has dissolved. Add the lemon slices and simmer over low heat for 40 minutes, or until the peel is very tender and the pith looks transparent. Lift out of the syrup and drain on baking paper.
If serving the tart immediately, cover the surface withthe lemon slices. If not, keep the slices covered and decorate the tart when ready to serve. Serve warm or chilled with a little cream or custard.



Back to Desserts from Tart Au Citron