Panna Cotta with Raspberry Sauce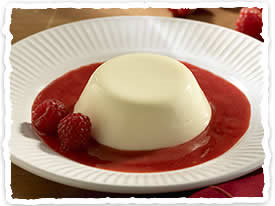 Ingredients:
Before you dismiss this Panna Cotta recipe as "too hard" - you should know, it's really not. If you're worried about the dessert slipping easily from the mould - yes, you can do it. And I'm going to tell you how before we start.
Dip the panna cotta moulds, one at a time, into a heatproof bowl half-filled with hot water. Leave for about 5 seconds.
Invert onto a serving plate. Place your thumbs on top of the mould and hold the plate with your fingers. Shake slightly to loosen.
Carefully remove the mould from the panna cotta to serve. If it still sticks slightly, repeat the shaking process then try again.
And on with the ingredients:
Panna Cotta:
3 cups cream
3 teaspoons gelatine
1 vanilla bean
1/3 cup caster sugar
Raspberry Sauce:
1 cup caster sugar
1 cinnamon stick
125g fresh or frozen raspberries
1/2 cup good-quality red wine

Method:
Panna Cotta:
Lightly grease the inside of six 160ml ramekins or moulds with flavourless oil.
Place 3 tablespoons of the cream in a small bowl, sprinkle the gelatine in an even layer over the surface and leave to go spongy.
Put the remaining cream in a pan with the vanilla bean and sugar and heat gently while stirring, until almost boiling.
Remove from the heat and whisk the gelatine/cream mix into the cream mixture until dissolved.
Pour into the moulds. Chill for 2 hours, or until set.
*Note - if you prefer, you can split the vanilla bean and add the seeds to the custard.
Raspberry Sauce:
Stir the sugar with 1 cup of water in a pan over medium heat until the sugar has completely dissolved - but do not allow it to boil. Add the cinnamon stick and simmer for 5 minutes.
Add the raspberries and wine and boil rapidly for 5 minutes.
Remove the cinnamon stick and push the sauce through a sieve. Discard the seeds.
Cool, then chill before serving with the Panna Cotta.
This dessert can be garnished with fruit or mint leaves for effect.
Back to Desserts from Panna Cotta