Steak Stew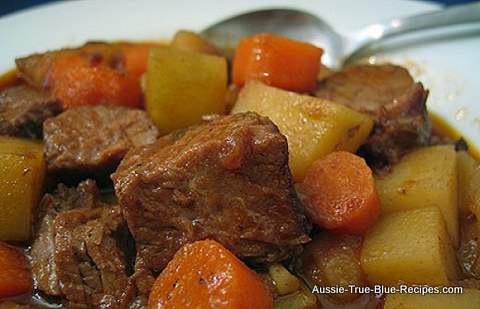 Ingredients:
2 tablespoons vegetable oil
1/2 cup plain flour
1/2 teaspoon salt
1/2 teaspoon black pepper
1 1/4 pounds boneless sirloin, cubed
1 can beef broth
1 large onion
1 cup hearty red wine, such as burgundy or cabernet sauvignon
8 ounces sliced fresh mushrooms
1 bay leaf
1 teaspoon garlic powder
1/2 teaspoon dried thyme
1/4 cup water

Method:
Heat the oil in a large saucepan over medium heat. Meanwhile, pour the flour, salt and pepper in a large zipper top plastic bag and shake to mix. Add the meat and toss to coat with flour. Remove the meat from the bag and shake off the excess flour.
Reserve the flour in the bag. Add the meat to the pot and raise the heat to high. Cook, stirring frequently, until it begins to brown about 3 mins.
Meanwhile, skim the fat from the beef broth. Peel and chop the onion, adding it to the pot as you chop. Add the beef broth, wine, mushrooms, bacon bits, bay leaf, garlic powder, and thyme. Cover and bring to a boil.
Meanwhile, combine 1/4 cup of the reserved flour and the water in a small container that has a lid. Shake well until the lumps disappear. When the stew boils, reduce the heat to medium-high, and drizzle the flour-water mixture over it, stirring constantly.
Cook until thick, 3 minutes, stirring often. Serve at once.