Chicken Stroganoff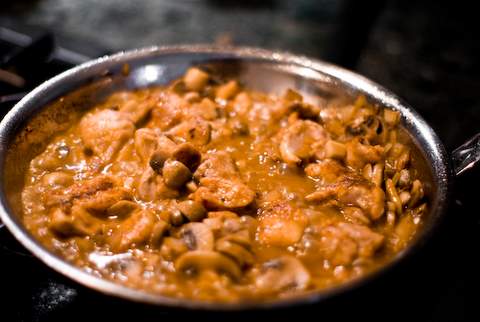 Ingredients:
2 whole chicken breasts, skinned and boned
1 medium onion, peeled and finely chopped
1/4 cup water
3 Tablespoons dry sherry
60g butter
1 Teaspoon salt
165g mushrooms, sliced
1 1/2 Teaspoon paprika
1 Tablespoon plain flour
1 cup sour cream or plain yoghurt
Like my site? See how easy it is...
Method:
Cut each chicken breast in half and cut crosswise (against the grain) into 10 or 12 strips. Melt the butter in a large heavy frying pan over moderately high heat.
Add chicken and sprinkle with salt.
Cook for 2 minutes, stirring constantly.
Add the onion, mushrooms and paprika and cook for 2 minutes longer continuing to stir.
Add water.
Reduce the heat to moderate, cover and cook an additional 2 minutes.
Meanwhile combine the flour and sherry in a small bowl.
Add the mixture to the pan and cook, stirring rapidly until the mixture thickens - about 1 minute.
Add the sour cream, and stir unil heated through.
Do not let the mixture come to a boil.
Serve over rice.



Back to Chicken from Chicken Stroganoff