Chicken With Crisp Chilli And Cashews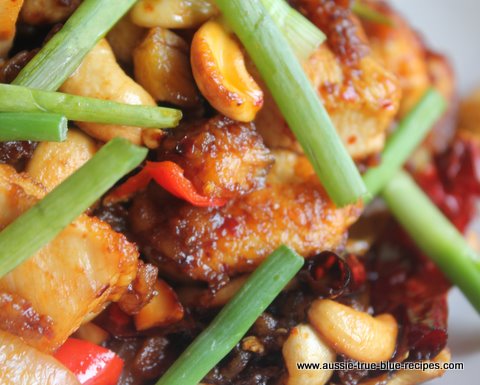 Ingredients:
This recipe for Chicken With Crisp Chilli And Cashews will quickly move its way into one of your family favourites.
A wonderful blend of spicy condiments, with just the right combination to win you over, this is the perfect Australian-style stir fry.
3 tablespoons oil
4 fresh red chillies, seeded and sliced
3 cloves garlic, sliced
500g chicken fillets, sliced
1 onion, sliced
1 tablespoon oyster sauce
1 tablespoon fish sauce
1 tablespoon tamarind sauce
2 tablespoons water
2 teaspoon brown sugar
1/2 cup roasted cashew nuts
Method:
Heat 2 tablespoons of the oil in a wok or frying pan.
Add chillies and garlic and fry until crisp and golden.
Drain on absorbent paper.
Add remaining 1 tablespoon of oil to pan and fry chicken and onion until chicken is golden brown and cooked.
Stir in sauces, water and sugar and stir-fry for 2 minutes.
Add cashews and mix through.
Serve topped with fried chilli and garlic, and long-grain steamed rice.
Back to Chicken from Chicken With Crisp Chilli And Cashews