Impossible Chicken Pie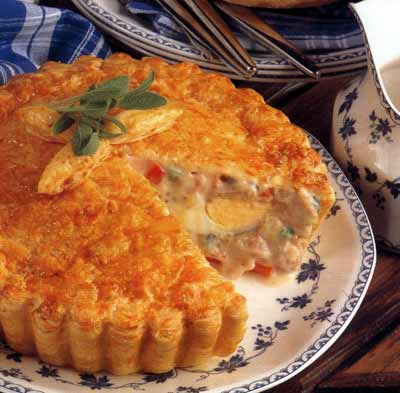 Ingredients:
Wait till you cook THIS Impossible Chicken Pie recipe - you'll absolutely love it, and will return to this page again and again.
1 large chicken
4 eggs, lightly beaten
1 cup of milk
375ml can of evaporated milk
1/2 cup grated cheddar cheese
1 carrot, grated
1 zucchini, grated
1/2 cup packet scone mix
1 tablespoon butter or margarine, melted
2 tablespoon chopped parsley
4 spring onions or shallots, chopped
salt and ground pepper

Method:
Preheat oven to 180°C. Roast chicken for approximately 1 1/4 hours. When cooked, allow to cool and remove all chicken meat and chop roughly.
In a large bowl, combine all ingredients and cooled chicken meat. Spoon mixture into a greased 25cm pie plate and bake in a 170°C oven for 55 to 60 minutes or until golden and firm.
Allow to stand for 10 minutes before serving. Serve warm or cold with a tossed green salad.
Note: This mixture can be cooked in a large greased loaf dish, or 10-12 individual ramekins. Timing may vary, so check until mixture is firm.
Easy, huh?
Back to Chicken from Impossible Chicken Pie