Chicken In Coconut Milk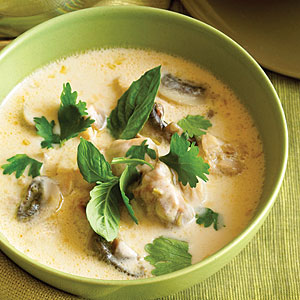 Ingredients:
This Chicken In Coconut Milk recipe demonstrates the influence that multiculturalism has had on Australian cuisine - and how welcome that influence is....
1kg chicken pieces (drumsticks, thighs, half breasts)
1 onion, chopped
2 cups coconut milk
4 dried kaffir leaves
2cm cube peeled fresh ginger, chopped
1 green chilli, seeded and chopped
2 tablespoon lemon juice
2 tablespoon fish sauce
2 teaspoon brown sugar
1/3 cup peanuts, roughly chopped

Method:
Remove skin from chicken pieces and discard.
Place chicken pieces into a large saucepan.
Add all remaining ingredients and bring to the boil.
Lower heat and simmer uncovered for 30 to 35 minutes or until chicken is cooked.
Remove kaffir leaves and discard.
Serve with steamed long grain rice (Basmati is great).
Return to Chicken from Chicken In Coconut Milk