Chicken Marsala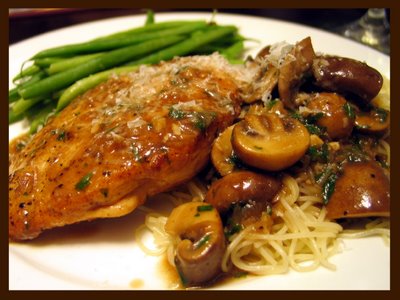 Ingredients:
This Chicken Marsala demonstrates the wonderful Italian influence on Australian cuisine. Basically this dish is sauteed chicken fillets, with a mushroom sauce and Marsala wine. Hard to resist, right?
30g butter or margarine
1 tablespoon olive oil
1 clove garlic, crushed
4 chicken breast fillets
1 cup of button mushrooms or champignons
1/4 cup marsala
1/4 cup cream
salt and pepper to taste
chopped parsley

Method:
Heat the butter and oil together in a frying pan. Add garlic. Cook for 1 minute.
Add chicken to pan. Cook for a few minutes each side until golden. Remove chicken from the pan.
Mix in marsala, stir to remove sediment from the bottom of the pan. Simmer for 1 minute. Add mushrooms and saute for 2 minutes.
Blend in cream and season to taste. Simmer until beginning to thicken.
Return chicken to the pan and heat gently for 5 minutes.
Sprinkle with parsley and serve with egg noodles and a crisp fresh garden salad.
Back to Chicken from Chicken Marsala