Canton Chicken Wings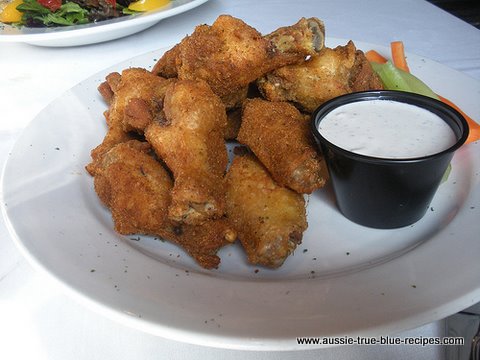 Ingredients:
This Canton Chicken Wings recipe can be served as either a meal (with rice), or with dipping sauce for finger food at a party or BBQ.
500g chicken wings
2 teaspoons polunsaturated oil
Marinade:
2 tablespoons soy sauce
2 tablespoons dry sherry
1 clove garlic, crushed
2.5cm piece ginger, peeled and chopped
1/4 teaspoon seasame oil
2 shallots, sliced
Sauce:
1 tablespoon cornflour
1 1/4 cup water

Method:
Remove tips from chicken wings and discard.
Cut through wing joints to form 2 pieces and place in a shallow dish.
Combine ingredients for marinade and pour over chicken.
Marinate in the refigerator for 1 to 2 hours. Drain and reserve marinade.
Heat oil in a frying pan and stir-fry chicken for 10 minutes or until cooked.
If you are serving this dish on a plate as a meal, add the marinade to the chicken in the frying pan, and then follow below sauce instructions. If not, remove the chicken and put on a serving plate, and then add the Marinade to the frying-pan.
To prepare the sauce - blend cornflour with a little of the water until smooth, then stir in remaining water.
Stir into the Marinade mixture. Bring to the boil and cook, stirring constantly until the sauce thickens.
Back to Chicken from Canton Chicken Wings