Devilled Chicken Kebabs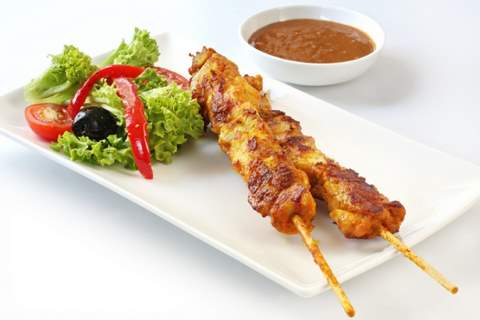 Ingredients:
1 1/4 kg chicken thigh fillets
Marinade:
1 Tablespoon caster sugar
1 Teaspoon ground giner
1 Teaspoon hot english mustard
2 Tablespoons tomato sauce
1 Tablespoon worcestershire sauce
1 Tablespoon ligh soy sauce
4 drops tabasco sauce
1 Teaspoon cracked black peppercorns
1/2 Teaspoon curry powder
1 1/2 Tablespoons Sweet Chilli Sauce
1 Tablespoon Plum Sauce
2 cloves garlic, crushed
2 Tablespoons water
Tomato Salsa:
1 red spanish onion, finely chopped
1 Tablespoon malt vinegar
2 tomatoes, seeded and chopped
1/4 Teaspoon caster sugar
1/4 cup oil
Like my Website? See how I did it...
Method:
Cut chicken into strips, thread onto 16 skewers.
Combine with marinade in shallow dish, cover, refrigerate for 1 hour.
Cook kebabs on heated barbecue hotplate until browned and cooked through, turning occasionally. Brush with extra marinade while cooking.
Serve hot kebabs with tomato salsa.
Marinade: Combine all ingredients in bowl.
Tomato Salsa: Combine all ingredients in bowl.
Serves 8 (2 kebabs each)




Devilled Chicken Kebabs