Roast Chicken (including Stuffing)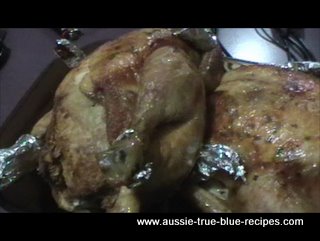 Ingredients:
This recipe for Roast Chicken is the recipe that I use most frequently for any festive occasion - that special meal where you want to impress: Christmas; Birthday; Anniversary.
1 large Chicken
7-8 slices of bread (white, wholemeal or both)
1 end slice of a loaf of bread, torn into a round shape
1 egg
1/2 cup finely chopped capsicum (red pepper)
1/2 cup finely chopped bacon
1/2 cup finely chopped spring onion (shallots)
1 teaspoon minced garlic
1 teaspoon Dijon mustard
1/2 teaspoon Mixed Herbs (dried)
Method:
Break the bread into small pieces with your fingers (not crumbs, but small actual pieces - about the size of a pea).
Add capsicum, bacon, spring onion, mixed herbs, minced garlic and Dijon mustard.
Beat the egg in a cup, and using your hands, mix the egg through the other ingredients, until you are able to form a ball with the mixture when squeezed in your hand.
Push this mixture up inside the cavity of the Chicken, packing it quite firmly.
As the Chicken roasts, the mixture will swell and will absorb the juices of the Chicken, and will become a beautifully-flavoured, dense Stuffing.
Hold the Stuffing inside the Chicken by placing the end crust (torn into a round shape) inside the lip of the cavity (see video demonstration below).
Under Chicken Skin:
Ingredients:
125g unsalted butter
A handful of finely chopped fresh chives
1/2 teaspoon minced garlic
1/3 cup of finely grated fresh parmesan cheese
Combine all of the ingredients.
Method:
Gently slide your fingers under the Skin of the Chicken breast, and around the top of the thighs, separating it from the flesh.
Flatten small knobs of the butter mixture between your palms, and gently push this under the skin of the chicken. This will work to keep the chicken beautifully moist, and will add a further depth of flavour to the Chicken.
Roasting The Chicken
In order to ensure that your Chicken is still moist at the time of serving, it needs to be roasted slowly in the oven. I roast my Chicken at about 150°C for between 1 1/2 hours and 2 hours.
Check out my video demonstration below for further details.
I know you're going to just LOVE this recipe, and that you'll adopt this method of roasting your chicken into the future.


Roast Chicken & Stuffing - Video Demonstration


Back to Chicken from Roast Chicken & Stuffing