Chicken And Mushroom Cobbler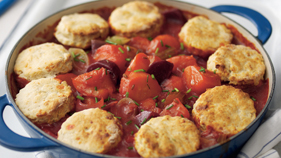 Ingredients:
This Chicken and Mushroom Cobbler is a pleasant option, and ideal for those cold winter nights when you need something to warm you up.
60ml vegetable oil
1 onion, chopped
1 celery stick, sliced
1 small carrot, peeled and diced
3 skinless, boneless chicken breasts
450g mixed field mushrooms and wild mushrooms, sliced
40g plain flour
500ml hot chicken stock
10 ml dijon mustard
30ml medium sherry
10 ml wine vinegar
salt and freshly ground pepper
For the Cobbler Topping
275g self-raising flour
pinch of celery salt
pinch of cayenne pepper
115g butter, diced
50g grated Cheddar cheese
150l cold water
1 beaten egg, to glaze

Method:
Preheat the oven to 200°C. Heat the oil in a large, heavy-based saucepan and fry the onion, celery and carrot gently for 8-10 minutes, to soften without colouring.
Cube the chicken, then add to the pan and cook briefly.
Add the mushrooms, fry until the juices run, then stir in the flour.
Remove the pan from the heat and gradually stir in the stock.
Return the pan to the heat, and simmer gently to thicken, stirring all the time.
Stir in the mustard, sherry, vinegar and seasoning.
To make the topping, sift the flour, celery salt and cayenne into a bowl or food processor fitted with a metal blade.
Rub in the butter and half the cheese until the mixture resembles coarse breadcrumbs.
Add the water and combine without over-mixing.
Turn the dough on to a floured board, form it into a round and flatten to a thickness of about 1cm. Cut out as many 5cm rounds as you can, using a cutter.
Transfer the chicken mixture to a 1.2 litre pie dish, then overlap the cobbler shapes around the edge.
Brush with beaten egg, scatter with the remaining cheese and bake for 25-30 minutes until the topping has risen well and is golden.
Chicken And Mushroom Cobbler will quickly become a family favourite, so be sure to bookmark this recipe.
Back to Chicken from Chicken And Mushroom Cobbler