Mini Blossoms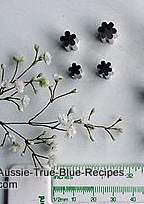 Roll your moulding paste very thinly, and use the blossom cutter to cut out the flower.
Place the cut out flower face down on soft foam, and cup each petal by pressing down (with a pin-head size ball tool), in the centre of each petal.Turn the flower over gently, and press in the middle to cup the flower, and bring the petals up slightly.
While the flower is still soft, dip a white stamen in your flower glue and insert into the centre of the flower, twisting it slightly as the head goes into the icing.
Stand in florists foam to dry.
Using your royal icing coloured green, gently paint a small calyx at the base of the flower where it meets the stem.
When the flower is dry, gently dust with the chalk powder of your choice and steam quickly over a boiling kettle (one second).
Place in florist's foam to dry completely.


Blossom (Filler Flower) - Video Demonstration



Back to Cake Decorating from Blossom (Filler Flower)