Royal Icing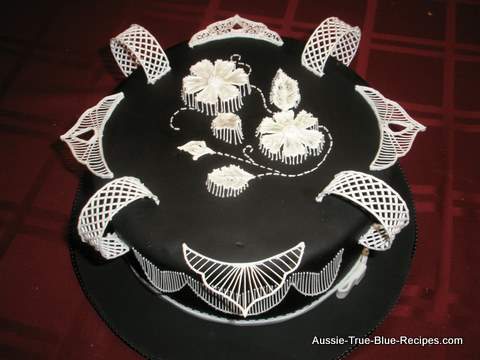 Royal Icing is used extensively in traditional cake decorating - for writing, cornelli work, lace work, beading around the base of the cake - along with numerous other decorations. I also use it at the back of all of my flowers (coloured green) as calyxes to add strength and realism.
Ingredients:
Stocking material (unused pantyhose)
Pure icing sugar
Egg white
Method:
Strain egg white through the pantyhose into a coffee mug or small glass bowl (You don't want the albumen in this icing)
In a separate bowl sift the pure icing sugar twice through a confectioner's sifting pan used specifically for cake decorating.
Beat the egg white with a fork to break it up properly, then add the sifted icing sugar teaspoon at a time.
Beat the egg and icing sugar well after each addition, making sure that the icing sugar is completely blended before adding the next teaspoon of icing sugar.
The mixture is ready when you have achieved a "honey" consistency. Your royal icing should be a pure white, glossy mixture - if not, beat it well again.
Cover the mixture with plastic wrap until needed, ensuring that you press the wrap to the surface of the royal icing to prevent a crust forming.
I always make royal icing no more than 4 hours prior to using, as if you are using it for piping onto a cake, the older it is, the more you risk clogging up your icing tubes. Older royal icing can be retained for painting calyxes onto the back of your flowers if needed.
Royal Icing