Herbed Mussels And Fish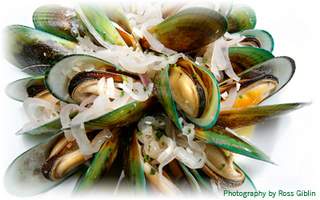 Ingredients:
12 large mussels
1 onion, sliced
1 stick celery, chopped
1 Tablespoon tomato paste
1 Teaspoon chopped fresh thyme
2 Teaspoons parsley, chopped
2 Teaspoons olive oil
1 clove garlic, crushed
410g tin tomatoes
1/4 cup dry white wine
1/2 cup water
300g white fish fillet, chopped
Method:
Remove beard from mussels of acrule shells.
Heat oil in pan and add onion and garlic.
Cover and cook until soft.
Add celery, undrained crushed tomatoes, paste, wine, water and thyme.
Bring to the boil for 2 minutes.
Add mussels and fish and stir gently.
Simmer, covered for about 5 minutes or until the seafood is tender.
Serve sprinkled with parsley.
Serves 2.



Back to Seafood from Herbed Mussels And Fish