Green Tomato Pickles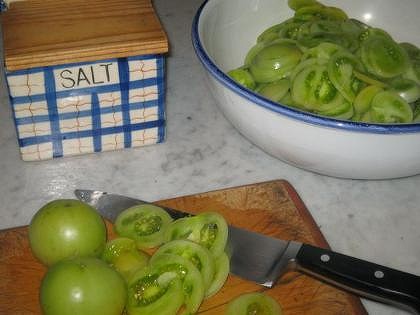 Ingredients:
6 lb tomatoes
3 lb onions
2 lb sugar
1 lb treacle
1 litre vinegar
2 oz cloves
2 ozs whole spice
2 ozs peppercorns
1 Tablespoon Tumeric
1 Dessertspoon mustard
1 Teaspoon Cayenne
3 Dessertspoons Curry Powder
1 Teaspoon Pepper
Salt
Method:
Slice tomatoes and onions thinly.
Place in separate dishes.
Sprinkle with salt and leave overnight.
Next morning, pour off liquid.
Put into pan with sugar, treacle and vinegar.
Place cloves (whole), spice and peppercorns in gauze bag, and hang the bag over the edge of the saucepan so that it dangles in the liquid.
Boil for 1 hour.
Thicken with Tumeric, plain flour, curry powder, mustard, pepper and cayenne.