Frangipani

Instructions:
To assist your Frangipani to dry in the perfect shape, half fill a plastic container with either icing sugar, cornflour or even rice. Use an icing nozzle to press a funnel-shaped hole in the cornflour, in readiness for your first frangipani.
Roll out your moulding paste and cut out five individual petals.
Rub the edges of each petal gently with your fingers, and dusty yellow chalk to about half way up the petal, blending it in with your thumb.
Using your fluting tool (I use a rounded toothpick for small frangipani - or a wooden skewer for larger ones) and lay it along the left hand edge of the petal (pointed end of petal facing you).
Gently curl the edge of the petal over the tool - and this gently encourages the petal to being rolled up later.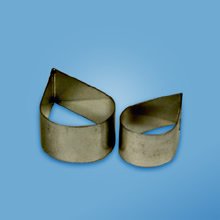 Lay the petal on soft foam and use a marble-sized ball tool to gently press and cup the rounded end. Make the other 4 petals in the exact same manner, laying them fan-shape on top of each other with flower glue between them, where they overlap.
Paint the flower glue on top of the last petal and roll them up. Ensure the last petal has properly stuck to the back of the first one. Place the flower in the funnel in your plastic container, and using a soft paintbrush (water colour brush), gently stroke each petal in turn to slowly encourage the flower to open either slightly, or as fully as you desire.
When they are dry, paint a short green calyx at the base in royal icing. For a realistic look, chalk a little pale pink dust a little way up the back of the petals from the calyx.
If you require the flowers on wires, wait some time until they are almost dry, and then insert a hooked wire into the base of the flower where it is thickest. Dip the wire in flower glue first, and then once inserted into the flower, tape the wire. Make sure not to push it too far up into the centre of the flower where it would be quite obvious.
Sit in a holed board to dry.
Finish with the calyx as for non-wired frangipani, to strengthn and neaten where the wire is inserted.
Back to Cake Decorating from Frangipani