Chocolate Ice-Cream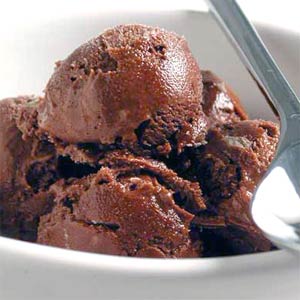 Ingredients:
Think of Chocolate Ice-Cream, and think of exercise. Well, at least - I do. But I personally would rather exercise and have my ice-cream, than go without this delicious treat.
2 eggs
1/2 pint milk
2 oz sweetened chocolate
1/2 pint cream or evaporated milk
vanilla essence
sugar to taste

Method:
Whisk the eggs and milk together, and cook in a double saucepan until the custard thickens. Cool.
Grate the chocolate, and melt it over hot water, stirring to avoid it separating and becoming grainy.
Add to the custard and whisk until thick.
Whisk the cream or evaporated milk in another bowl, and then combine it with the custard.
Add essence and sugar to taste.
Freeze in the freezing compartment of the refrigerator, stirring at intervals of 15-20 minutes, until half-frozen.
Leave it until firm.
Serve in either cones, or dessert bowls...

Home-Made Chocolate Ice-Cream - Video Demonstration



Back to Home Made Ice Cream from Chocolate Ice-Cream