Zucchini Muffins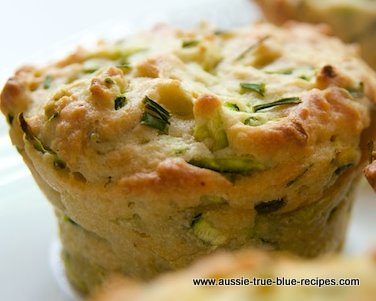 Ingredients:
225 wholemeal flour
125g grated zucchini
4 tablespoons honey
4 tablespoons vegetable oil
2 egg whites
175ml skim milk
1 teaspoon ground cinnamon
1/2 teaspoon salt
1 tablespoon baking powder

Method:
Preheat oven to 190°C. Place muffin cases in muffin tray.
Combine wholemeal flour, baking powder, salt and ground cinnamon, mix through thoroughly.
In a separate bowl, mix the milk, slightly beaten egg whites, oil, honey and greated zucchini together.
Pour into the dry ingredients and stir until just barely moistened.
Batter should be thick and lumpy.
Fill muffin tins 2/3 full with the batter.
Bake in the preheated oven for 20 minutes or until lightly browned.
Back to Muffins from Zucchini Muffins