White Christmas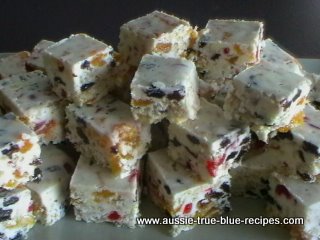 Ingredients:
250g Copha (vegetable shortening)
140g pure icing sugar
180g sultanas
100g finely chopped glace cherries
100g finely chopped dried apricots
85g desiccated coconut
1 cup full cream mulk powder
1 1/4 cup rice bubbles*
*may be known as rice crisps in countries other than Australia.

Method:
Place all ingredients except Copha into a mixing bowl and combine well so that the fruit is evenly dispersed throughout the mixture.
Place Copha in a saucepan and on a low heat, gently melt.
Once melted, add the Copha to the other ingredients and quickly combine until all ingredients are moistened by the Copha.
Transfer mixture into a greased and lined slice tray, and press down firmly with the back of a spoon or your (clean) fingers, making sure to spread evenly and into the corners of the tray.
Refrigerate for about an hour, or until set.
Cut into small squares. If stored in an airtight container, this confectionary will keep in the fridge for up to a month.
This is the perfect Christmas confectionary, quite popular in Australia.
White Christmas - Video Demonstration
Back to Confectionary from White Christmas